100 YEARS OF RECOGNIZING R.T.S
ARRT is marking 100 years of recognizing R.T.s—and we hope you'll join in. Read on for an updated history of our profession, and enter for a chance to be part of our social media campaign.
---
HISTORY
Almost 100 years, ago, Sister M. Beatrice Merrigan took 10 required radiographic films (spanning sinus to knee), answered 20 essay questions, and submitted them to the Registry—known today as ARRT. A few weeks later, she received her exam results and became our first Registered Technologist.
In November 2022, ARRT is honored to mark a century of recognizing qualified people who work in medical imaging, interventional procedures, and radiation therapy. Today we certify and register more than 345,000 technologists in 15 disciplines. Throughout our centennial celebration, we'll tell the stories of some of those people.
Want to learn more about how ARRT and field of radiologic sciences has evolved?
View A Timeline of Our Profession
---
CELEBRATING R.T.S ON SOCIAL MEDIA
R.T.s—like you—have been delivering gold-standard patient care for 100 years. In celebration, we've launched a social media campaign called #RTsAreMore. You might have seen it on Instagram, LinkedIn, and Facebook. And it's not too late for you to join in!
ABOUT THE CAMPAIGN
We know that the string of letters behind your name tells a story: about the education, hard work, and dedication required to become the health care professional you are today. Your credential tells the world you are more.
You're a dependable and essential health care professional who ensures patient safety and insists on quality care.
You're also many other things: A home chef. A weekend windsurfer. A mystery novelist. A parent. And much more.
That's why we want to share your #RTsAreMore equation—the phrases that, combined with "I'm an R.T.," tell the world who you are.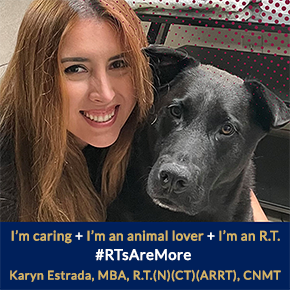 SHARE YOUR #RTSAREMORE EQUATION
Share what makes you "more," along with a photo, and help us celebrate you! ARRT will create social media posts, like the one above featuring Karyn Estrada, R.T.(N)(CT)(ARRT). If you provide your social media handle(s), we'll tag you so you can share with your network.
Ready to show why #RTsAreMore? Submit your personal equation.
Submit Now
FROM THE ARRT BOARD OF TRUSTEES
On behalf of ARRT staff and its Board of Trustees, I extend my congratulations to all Registered Technologists, past and present.
For nearly a century, you've been the reason we exist. We've worked together to ensure that people who need medical imaging, interventional procedures, and radiation therapy receive the very best care.
Gold Standard Patient Care is more than an aspiration. Thank you for your dedication to your patients and your profession. We appreciate your efforts.
Sincerely,
Paul A. Larson, M.D., FACR, Past President of the ARRT Board of Trustees